Adult Adventure & Zipline Courses
Treetop Adventure Courses & Zipline Course Combo
Ages 10+ • 3 Adventure Courses + Zipline Course • 2 Hours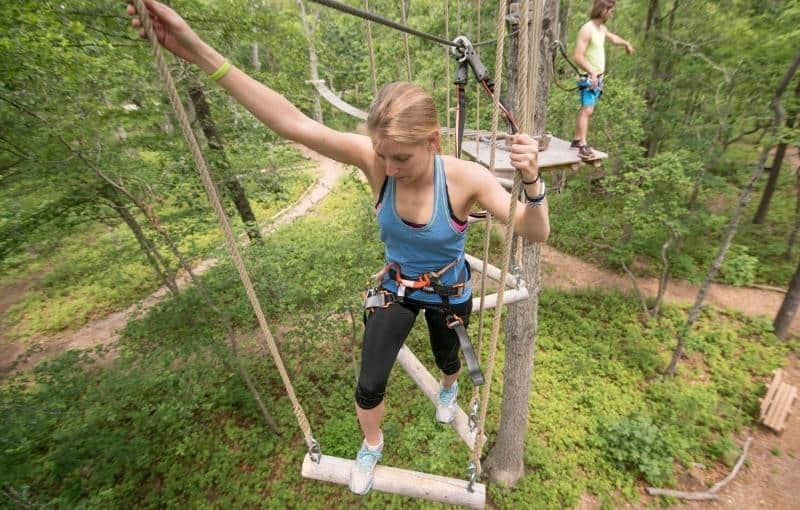 Get the best of both worlds with an adventure course and zipline-only course combo ticket. Participants ages 10 and up, who meet our reach requirement, navigate through a series of progressively difficult aerial obstacles. Climbing walls, rope swings, cargo nets, barrel crawl, wobbly bridges are just a sample of what you will encounter at varying heights above the ground. Our ground patrol staff encourage you and offer guidance if necessary to help you achieve your personal best.
End your day in the trees on our zipline-only course.
Ticket Price: $50  l Groups of 10-20: $43 per person
AERIAL OBSTACLE COURSE
An aerial adventure course is an obstacle course set high up in the trees! Our courses have different levels that get more difficult and higher up as you progress. Each course has a series of unique obstacle elements such as ladders, tight ropes, balance beams, and wobbly bridges.  Participants on our adult courses must be aged 10 or older AND able to reach (standing with both arms above their head) to a height of 5'9″).  All of our aerial obstacle courses are self-guided. 
Obstacles on the Adult Course Include: Wobbly bridge, swing, cargo net, zip line, tightrope, barrel, aerial skateboard, and more!
SELF GUIDED ADVENTURE COURSE & ZIPLINES
Includes 3 adventure courses and one zipline course
Optional Challenge: Red Course Add-on for $5
Reach requirement of  5′ 9″ will be confirmed at check-in. Participants must be able to comfortably reach the height of the cable.
To add our Red Course to your adventure, proceed to checkout and add "Red Course Add-on" to your cart!
(Reach requirement*: participants must reach 5'9″)
Adult Adventure Course FAQ's
What is the Red Course Add – On? The Red Course is our most challenging, highest course. It begins with climbing straight up a tree by using the attached rock wall, and ends with our signature "leap of faith". You'll experience a Tarzan swing and more thrilling obstacles. The Add – on for the red course is only $5!
Do I need a parent release to bring minors? Yes. Anyone under 18 must have the participant agreement signed by a parent or legal guardian if going into the trees. One adult must stay on the property while minors play in the trees
What should I wear? Dress appropriately for weather conditions. Hair must tied back. Closed-toed shoes are required.
While there is ample parking on the Cape May County Zoo & Park campus, please allow time for drive time traffic patterns and walking to Tree To Tree Welcome Center Check-in.
You may also be interested in…
Kids Adventure Course
ages 7-9  ・$35
Includes 2 adventure courses
Zipline Only Course 
ages 10+・ $35
Includes two circuits of a 5 zipline course