Save $10 per person on 8 am and 8:30 am arrival times all summer long! Book now or scroll to see our adventure options.
Obstacle treetop AdventureS
& Zipline Courses
Which Course Is Best For You?
Each of our treetop adventure and zipline courses has a minimum age and a reach requirement. Before you book, find out which adventure option is best for your individual reach. To find your Reach:  With your feet flat and arms raised above your head, measure from the ground to your fingertips.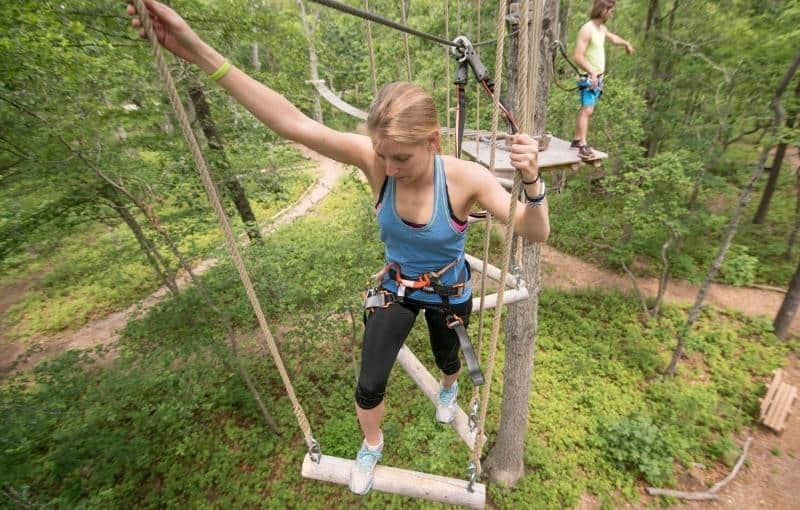 Treetop Adventure Courses & Zipline Course Combo
Minimum age 9 • Reach Requirement 5' 9'
Three (3) Adventure Courses + Zipline Course • 2 - 2.5 Hours
Get the best of both worlds with an adventure course and zipline-only course combo ticket. Participants ages 10 and up, who meet our reach requirement, navigate through a series of progressively difficult aerial obstacles. Climbing walls, rope swings, cargo nets, barrel crawl, wobbly bridges are just a sample of what you will encounter at varying heights above the ground. Our ground patrol staff encourages you and offers guidance if necessary to help you achieve your personal best.
End your day in the trees on our zipline-only course.
Thirsty for even more? Upgrade your adventure combo with our fourth, final, and fiercest course for only $5.
Ticket Price: $55  l Groups of 10-20: $49.50 per person
Upgrade: $5  l Add a 4th and final course on the day of your climb.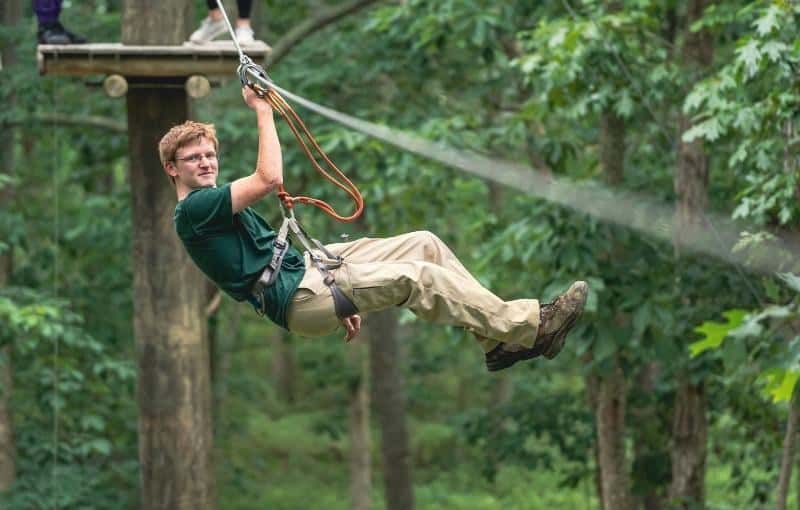 Minimum age 9 • Reach Requirement 5' 9'
Five (5) Ziplines - Completed Twice • 1 - 1.5 Hours
Escape the heat under the canopy of the Cape May County Zoo & Park on our zipline-only course. Take up to two self-guided tours through a circuit of five zip lines of varying heights, speeds, and lengths. Reach requirement.
Ticket Price: $40  l Groups of 10-20: $36.00 per person
Kids Treetop Adventure Courses
Minimum age 7 • Reach Requirement 4' 7'
Includes 2 Adventure Courses • 1.5 - 2 Hours 
Climbing comes naturally for our younger adventurers. Two kids obstacle courses boast more than 25 treetop activities including ziplines, z bridges, rope swings, climbing walls, and more. Parents can watch from the ground, take advantage of great photo opportunities and celebrate achievements.
Parents may purchase a kids-course ticket and climb with their children.
Ticket Price: $40  l Groups of 10-20: $36.00 per person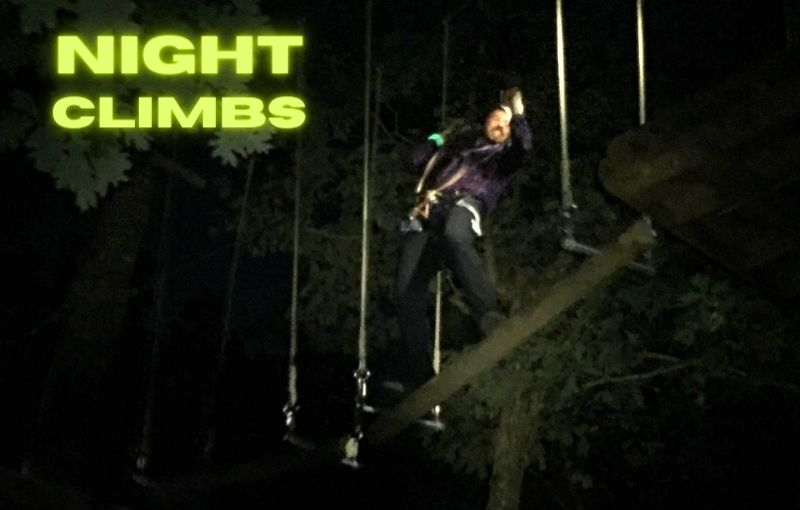 Minimum age 14 • Reach Requirement 5' 9'
Two (2) Adventure Courses & Five (5) Ziplines • 2-Hours
Add another layer of excitement with a night climb adventure. When the sun goes down, the lights come on. The Night Climb includes two Aerial Obstacle Courses plus the 5-line Zipline Course. The demo area is lighted, and a headlamp is provided for light as you climb through the courses. This is an Adult Only adventure, no one under age 14 will be admitted. 2023 Dates: 5/6, 6/3, 8/1, 8/31, 9/29, and 10/28
Ticket Price: $60  l Groups of 10-20: $54 per person