First time doing a ropes course. Everyone in the family (6 of us) had a blast. One of the best family action fun things to do in cape may hands down. We were there for 3 solid hours which was a perfect amount of time. Would absolutely return !!!! Worth every dollar we paid.
Spectacular place!  A Hidden Gem!
Spent 3+ hours on the adult course with family/friends and we LOVED IT!! The course is creatively & thoughtfully laid out in the woods so you can't see much of it from any one vantage point, and it gives you the impression you're really in a jungle. …especially having CMCZoo animals' sounds within earshot through the trees!
The magnetic harness system gave even a novice a sense of real attachment to safety lines at ALLLL times, and it was quite an impressive system of safety T2T employs. The positive attachment each safety strap as you proceed through the course was VERY well thought out and that makes this course accessible to even beginners.
You definitely need some upper body strength to complete the entire 4courses & Zipline course, and being in moderate shape should be openly suggested in the descriptions.
WE HAD A BLAST HERE, we will likely return to challenge ourselves again, and we will defintely recommend it to others!!
Best Value tree adventure we've ever done
Our kids (ages 10 and 12) have really started getting into these "tree adventures/canopy courses". Not only was this the most reasonably priced, but it was also one of the best laid out that we have ever been to.
Two things that set this one apart is:
1) they don't go by time, like some do. We've been to some and been told that once you pay for certain courses, you have 2.5 hours. Whatever you don't complete, too bad, you must come down. This one, you pay for 4 or 5 courses, and do them at your pace. If you're done in 2.5 hours, great. If it takes you 3.5 hours, that's OK too.
2) instead of going by age, they go by reach requirements, which is how it should be. My kids would be considered advanced by their ability and experience. They don't want to do the kiddie courses. They can handle the more advanced course. But they don't want to be in the more difficult course if they are going to get stuck because they simply can't reach high enough to grab something.
This one has 4 levels to choose from.
Adult $50 (you need a reach of 5'11") with 3 courses + a zip line course that has 5 zip lines
Jr Adult $40 (reach of 5'9″) and includes 2 kid courses, the 1st 2 adult courses and the 5 zip lines course
Kid $30 (reach of 4'7″) includes just the 2 kid courses
Zip line only course $35 (5'9″ reach) 5 zip lines course that you can do twice, so 10 zip lines.
The pricing was as reasonable as we have ever seen and the kids had a great time.
Right next door in this park is the Cape May County Zoo. Admission to the zoo is free.
This was one of the best rope courses I have ever been on! They do not hover over you and let you have a little bit of freedom which is awesome because most places do not let you do that they of course help you when you need it. It is very challenging and you have to be somewhat in shape to complete the course, bring lots of water!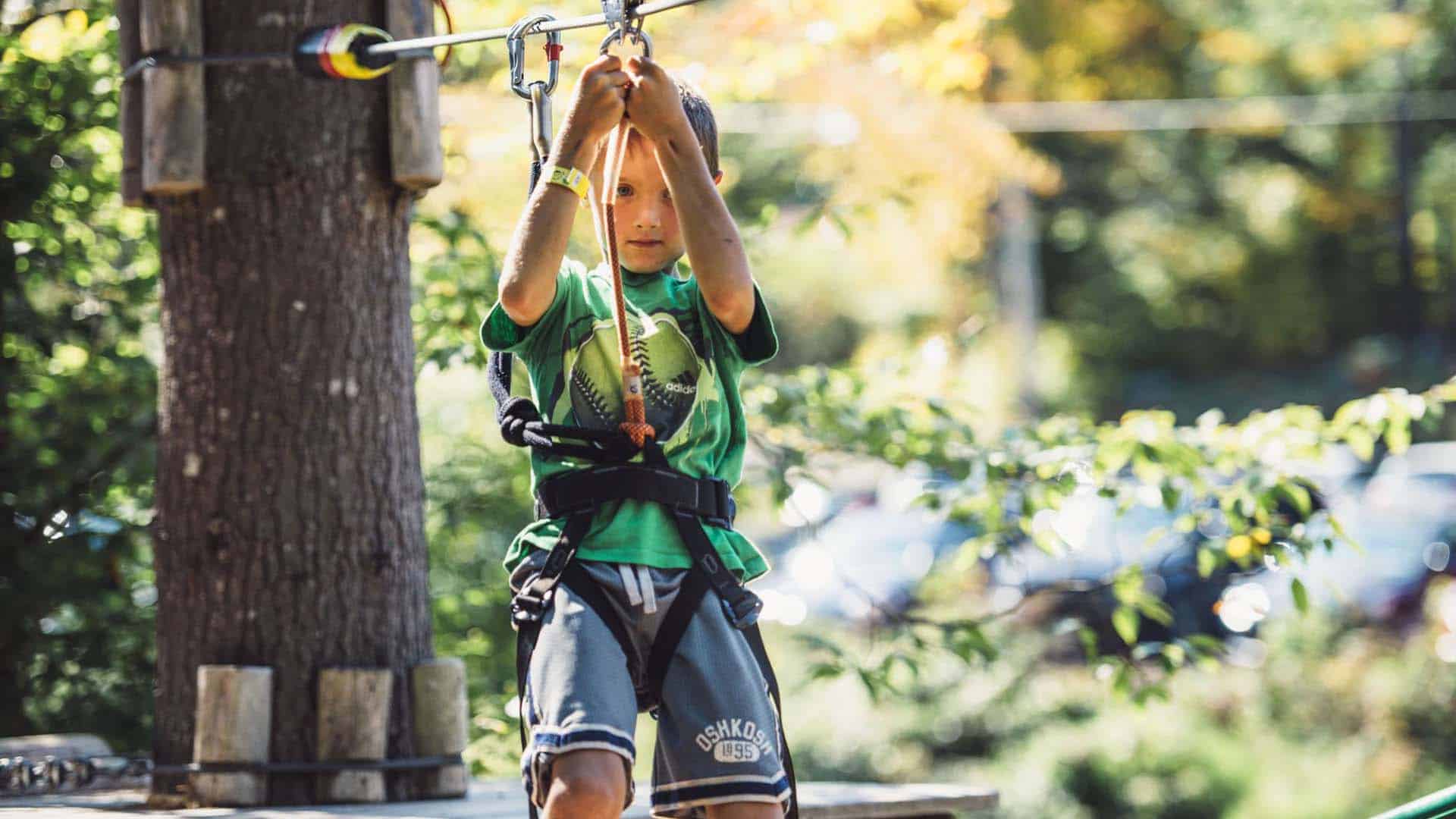 This was a last minute adjustment to our plans due to the expected poor weather for Memorial Day. We were going to go to the zoo again but the family was already tired of the same event that we have done numerous times over the years. We booked on line for a 11 AM tour. It was relatively easy to pay, set up our profiles and sign waivers. We arrived 40 minutes early since the request was to be at least 30 minutes early. We were told to wait since the group before us had not left yet. Once we got in, we got fitted and went through the preliminary training. Everyone did great. Out on the training course, the young ones took a while to get the hang of it, but the instructor was very patient and did a great job. The place was relatively empty since we were early. This allowed us to take time to get comfortable on the course. My 10 year old is terrified of heights so he was very slow on the first set of obstacles. If it was later in the day, he may not have done as well, as it got very crowded with lines. We did not wait at all on the course during the entire three hours. Our guide stayed with us and was very helpful. We all felt safe after the first few obstacles. We grew as a family and my younger ones saw their confidence soar. As the older member of the party, I only really struggled with the rope section on course 3. All the other obstacles and zip lines were reasonable for me though I am very active for someone that is 63. If we had signed up for the extra $5 course, I would have passed as well as my son. It was much harder and by then I was physically spent. My wife and older daughter (21) plan on doing that course the next time that we come back. The combo park is so much better than just a zip line course and I liked how it gradually got harder as we went along. Take your family, go with friends or do a business outing. Go early to maximize your fun.
Have you visited?  We'd love to hear about your adventure!